Councilmember Michael Powers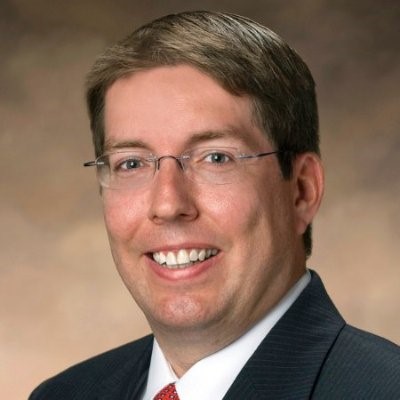 Michael Powers has deep roots in Lawrence Township. He grew up in the Colonial Lakelands and now resides on Pine Knoll Drive with his wife Nancy. A graduate of Lawrence High School, Mr. Powers received his Bachelor of Arts degree in Political Science from Emory University in Atlanta and his law degree from the Catholic University of America in Washington D.C. Mike is admitted to the bar in New Jersey and Pennsylvania. After six years as the head of the Legal Department of PharmaNet, an international drug development company, Mr. Powers returned to private practice in 2010 as a Senior Attorney with the national law firm Buchanan Ingersoll & Rooney in their Princeton office.
In November of 2003 Michael was elected to a four year term on the Lawrence Township Council. Mr. Powers believes that there is too much special interest money in politics in general and has consistently supported campaign finance reform efforts at the local level. During his first year on Council Mr. Powers introduced a "pay to play" ordinance to limit campaign contributions from professionals doing business with the Township. Mr. Powers knows the impact property taxes have on a peoples lives. During his second year on Council, Michael identified a tax saving measure that reduced the Township Manager's proposed 2005 tax hike by 11% through the use of the open space fund for park maintenance. In 2006 Michael had the honor of serving as Mayor of Lawrence Township. As Mayor of Lawrence, Mr. Powers took the Council on the road to meet with residents outside the confines of Town Hall. As Mayor, Michael launched events such as the Dog Days of Summer and Diversity Day to strengthen the ties of our community. Michael also utilized his year as Mayor to focus on health initiatives and initiatives for our youth.
In November of 2007 Michael was re-elected to a second term on the Lawrence Township Council. During this term, Councilman Powers, together with Mayor Mark Holmes, successfully negotiated the first voluntary continuing payment contribution from the Lawrenceville Prep School to our municipality. Through this effort, the Lawrenceville School has contributed over $100,000 to the municipal budget with an ongoing pledge to the township of an additional $35,000 per year. In 2010, Mr. Powers was unanimously elected by his Council peers to serve a second term as Mayor. To help promote "buy local" efforts during a poor economy, Mike held monthly "Ask the Mayor" meetings to address resident concerns at thirteen local businesses throughout Lawrence. In recognition of his efforts to promote diversity, Mr. Powers was named "Mayor of the Year" by the New Jersey Regional Coalition at their November 4, 2010 awards banquet. Mr. Powers currently serves as the Council liaison to the Growth & Redevelopment Committee, Shade Tree Committee and Human Relations Committee.
In addition to his activities at Town Hall, Mr. Powers is an active member of the Lawrence Knights of Columbus Council #7000. Mr. Powers is a Past Grand Knight of this charitable organization. As Grand Knight, Mr. Powers helped to revitalize the Church of Saint Ann blood drive and coordinated blood drive efforts with Adath Israel Synagogue. Mr. Powers is a former President of the Stonerise at Lawrenceville Condominium Association. As a member of the Stonerise Board of Trustees, Mike successfully petitioned Lawrence Township to lift a parking ban that prevented unit owners from parking on Gordon Avenue and helped to slow down traffic traveling on the roadway. In his free time, Michael likes to spend time with his twin boys Christopher and Hunter, travel and play golf. Mr. Powers has a passion for history - particularly the Colonial American period. He has visited Rockford, the Lancaster, Pennsylvania home of Colonel (subsequently General) Edward Hand. He has also been to Maidenhead, England - the original namesake of Lawrence Township.