Lawrence Township First Responder 9/11 Memorial
First Responder 9/11 Memorial
From The Lawrence Ledger, writer: Leah Kahn
Links and resources are located at bottom of the page
Dean Acquaviva, Marie Tagliaferri, and Ken Kendrac helped fund and create a memorial to first responders on Pilla Avenue in Lawrence Township. The memorial was officially dedicated on September 11, 2018.
After Lawrence Township decided in 2006 to close the Lawrence Township First Aid Squad and inaugurate a fully paid staff, the squad's three trustees, Marie Tagliaferri, Dean Acquaviva, and Ken Kandrac (all Lawrence natives) had to make three decisions: what to do with their building, what to do with the lot they owned across the street and how to disburse remaining funds donated by the community.
First, they tackled the easy one and decided to donate their building and equipment to the township. "It seemed logical—it was already set up as an ambulance structure, with three bays, and places to sleep," Acquaviva said.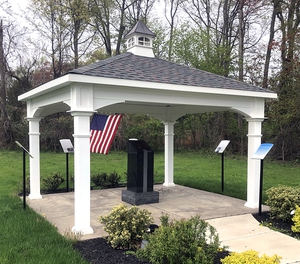 But the disbursement of the funds demanded some creative thinking. Required to either make charitable donations or funnel the monies back into the Lawrence community, they came up with the idea of creating a memorial to first responders on the empty lot. It would honor those who volunteered at Ground Zero on 9/11 and ensuing days, as well as those who are on call to respond to community tragedies every day—first aid rescue workers, firefighters, and police.
In 2015, Tagliaferri proposed that they acquire a piece of steel from the World Trade Center to be part of the planned memorial. They learned that the remains of the buildings, no longer considered "evidence," were now under the aegis of the New York Fire Department. Using his fire department connections, Kandrac wrote to the department commissioner requesting a piece of steel. Although their contact initially chided them, saying, "You could have done this 10 years ago—what were you waiting for?" they were given a 12 x 12 piece of steel, the end part of a flange.
Then Kandrac worked with Will Hope and Son, in Burlington, to design a structure to mount the steel that called to mind the two towers of the World Trade Center. The completed memorial sits inside a gazebo.
"We were going to fashion the piece of property into a memorial park and turn over ownership to the township, with the stipulation that it stays as a memorial to first responders of the township," Acquaviva says. The town council approved the idea, and they donated the lot to the township in December 2017.
The new memorial was ready by Sept. 11, 2018, in time to remember the 9/11 responders, with red tents set up near the gazebo in the new memorial park. Attending the ceremony were community members and local government officials.
Following the 9/11 attacks, both Kandrac and Acquaviva, along with many others in the squad, had volunteered in New York.
Kandrac, who had retired after 28 years with the Union City Fire Department in May 2001, was doing fire investigation work that September morning when he got a call from his wife about a plane crashing into the first tower. An hour later he headed to the First Aid Squad building to watch on a bigger screen, then about 11 a.m. a phone call came requesting manpower, along with their heavy rescue truck, which had tools for extricating people who were trapped. Three squad members who could leave got on the truck and headed north.
In Jersey City, they were told to set up for triage. Although they were told that "we've got 100 people coming over to be treated, nobody came," Kandrac says. Then rumors spread about "mass casualties coming over by ferry boat," so they unloaded truckload after truckload of bottled water and set up other items to be prepared for the onslaught.
About 2 p.m., a request came in for emergency medical technicians to come to Ground Zero, and when he arrived he saw the 47-story building 7 on fire. "I've been to a lot of fires in my time, but it was absolutely amazing to see this building burning from the first floor to the roof," he says. "The streets were coated in white soot powder; there was paper all over the place and parts of the aircraft in the middle of the street."
They hooked up with a group of first aiders, but there was little to be done, so they returned to their crew in New Jersey. Then at about 10 p.m. they were asked to bring over body bags, which they did. "While we were there, they found a firefighter who was dead and were in the process of recovering his body. You helped out however you could," Kandrac says.
On 9/11, Acquaviva was at Princeton Day School, where he works as a computer technician. "Everybody was pretty much just dumbstruck, and it didn't even occur to me to ask if I could leave," he says. But when he got home from work, he signed up on a list of emergency medical technicians, and after being passed over for the first two details, he confronted the chief and got on the next day's crew.
In Newark, he registered and received clearance, and compared to Kandrac's experience of "total chaos," what he saw was an organized process with strong security. After they drove up a nearly deserted NJ Turnpike, the entrance to the Holland Tunnel "was blocked by two gigantic military vehicles, and these people were armed to the teeth. They wanted to know what we were doing there, even though we were in an ambulance. They wanted to see credentials and paperwork," he says.
In New York he sat in line from later afternoon until 11 p.m. along with 30 or 40 ambulances "from all over New Jersey and New York, with names of towns you didn't even recognize," he says. When Acquaviva was about to give up hope that they would be able to contribute their services, they were vetted again by military personnel and asked to go to Ground Zero to provide first aid to search and rescue crews and to transport any injured people found in the rubble to the closest hospital. They parked in front of a makeshift morgue all night.
Having lived around the World Trade Center while earning a master's degree in fine arts at Hunter College, Acquaviva found it "extremely tough to witness the devastation that was there. I just kind of wandered around taking it in. I had walked those streets so many times and was so familiar with them, but standing there I could not tell you what was north, south, east, or west, because the devastation was so total. It looked like a war zone."
Tagliaferri stayed in town and covered calls while other squad members were volunteering on 9/11 and the days that followed. "For a couple of days it was all day and all night so these guys could go and help out," she recalls.
Tagliaferri says she joined the First Aid Squad in 1985 when she was in her 30s and her son was five to "help somebody who needs help and give back to the community." She was required to be available to answer calls one night a week and on one day every fifth weekend. Paid employees covered weekdays, 7 a.m. to 7 p.m., and the squad did nights, weekends, and holidays.
Part of the motivation behind creating this memorial, Acquaviva says, was "to make sure there was something that would help educate the children young enough now as to what it was all about and help people who lived through it to have someplace to gather and remember on 9/11 every year. We also thought there are many instances where some responder does something above and beyond the call of normal duty, and they need to be recognized—a fireman who goes back in a building or a policeman who saves a life by pulling somebody from a car before it is engulfed in flames—and there was no central place for those kinds of ceremonies to take place." And now there is.
9/11 Resources and Videos
The History Channel: September 11 Attacks
Britanica: The Attacks Of 9/11
The following YouTube videos Are Recreations Of The Events Of 9/11
9 /11 Facts For Kids | What Happened on September 11 2001
The North Tower Attack | American Airlines Flight 11