Fire Career Branch - Station 20
Lawrence Township employs five career firefighters, who presently operate from the Lawrenceville firehouse using Telesquirt 23 as their primary response apparatus. In addition to responding to all emergencies in the township requiring a fire department response, as well as responding to a variety of medical emergencies in support of our EMS Division, the career firefighters' duties include the regular running and inspecting of fire apparatus, including exercising pumps and aerial ladders; exercising and refueling powered equipment such as saws, fans, and rescue tools; maintaining breathing apparatus components and oxygen cylinders; mounting equipment and hose on apparatus; and making minor repairs to apparatus and equipment.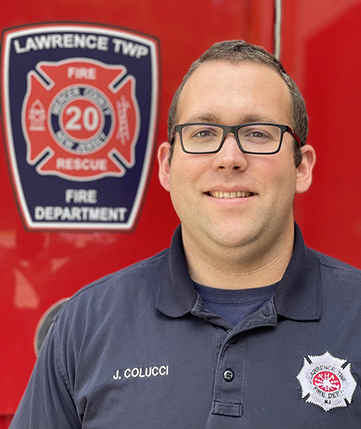 Justice Colucci
Firefighter Colucci was appointed to the career staff on July 16, 2018 and is assigned Badge #19. A lifelong township resident and proud  graduate of Lawrence High School, Justice grew up exposed to the emergency services world through his father's law enforcement career with Plainsboro Police Department. That helped to fuel Justice's interest in community service and he joined Lawrence Road Fire Company as a volunteer back in July 2013, meaning that he already had five years' firefighting experience when he was hired. Justice is also a state-certified emergency medical technician, training that has benefited many of our citizens at the motor vehicle accidents and other medical emergencies that our career firefighters have responded to.

Wayne Hannon Jr.
Firefighter Hannon was appointed to the career staff on January 3, 2022 and is assigned Badge #23. A native of Lawrence Township and a graduate of Lawrence High School, Wayne's interest in the fire service came from watching his father, Wayne Hannon Sr., serve as a life member and past fire chief of Lawrence Road Volunteer Fire Company. Wayne followed in his father's footsteps and joined Lawrence Road as a volunteer in 2006. He rose through the ranks and, like his dad, served the company as fire chief in 2020. Prior to being hired as a career firefighter, Wayne worked as a 911 dispatcher with Mercer County Central Communications and previously held a same position with Rutgers University and Lawrence Township Police Department.  Wayne is 29 and in his free time enjoys watching all New England sports teams and spending time with his Gordon Setter, Rusty.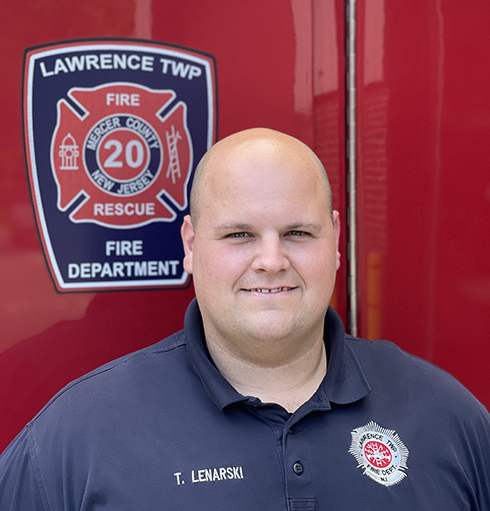 Todd Lenarski
Firefighter Lenarski was appointed to the career staff on September 3, 2019 and assigned Badge #20. Prior to being hired by Lawrence Township, he worked as a dispatch supervisor at Mercer County's Central 911 Communications Center. A third-generation firefighter – following in the footsteps of his grandfather, father, uncles and brother – Todd joined Slackwood Volunteer Fire Company as a cadet in 2003 at 14 and elevated to junior status at 16. Upon turning 18 in 2007, Todd attended the Mercer County Fire Academy obtaining state certification as a firefighter. He became one of Slackwood's most active members and has been the recipient of all of the fire company's prestigious annual awards: President's Award, Chief's Award and Firefighter of the Year Award. Todd has held every fire line position from lieutenant upward, culminating in his election as Slackwood's fire chief in January 2019. While he had to step down as Slackwood's chief when he was hired, Todd has continued to faithfully serve and protect the citizens of Lawrence Township in his new career. A Lawrence High School graduate, Todd is 32 and has been married to his wife Stephanie since 2012. Their children are Jordon, Madison and Brinley. Paradoxically, Todd is an ardent supporter of the Philadelphia Eagles, the New York Yankees and New Jersey Devils.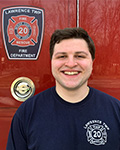 Drazen Medich
Firefighter Medich was appointed to the career staff on August 23, 2021 and is assigned Badge #22. Originally from Pembroke Pines, Fla., Drazen moved to Lawrence Township in 2014 and graduated from Lawrence High School in 2018. After relocating to Lawrence, Drazen quickly became enamored with the community therefore making his decision to serve its residents quite simple. Drazen grew up playing ice hockey and played three years of junior hockey for the Utica Jr. Comets before he was hired as a career firefighter for Lawrence Township. Consequently, working in a team comes naturally to Drazen. A graduate of the Middlesex County Fire Academy, Drazen is 21 years old and a devoted supporter of several sports franchises including the New Jersey Devils, New York Giants, and New York Mets.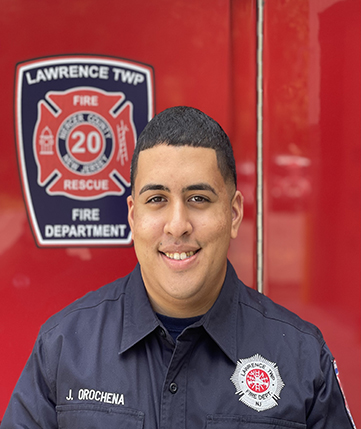 Jaime Orochena
Firefighter Orochena was appointed to the career staff on October 1, 2019 and assigned Badge #21. Jaime is 27 years old and was born and raised in New York City. After graduating from Xavier High School in 2011, he attended Syracuse University pursuing a Bachelor's degree in Psychology. During his final year at Syracuse, his mother became diagnosed with a debilitating medical condition, so he took a leave of absence in order to move back home and help out his family, who by then were living in Lawrence Township. Jaime's passion for helping others, in combination with the interpersonal and communication skills he developed through his studies, led him to develop a strong interest in firefighting. This prompted him to take the state's entry level Civil Service firefighter test and, for a brief period, to serve as a volunteer firefighter in Hightstown Borough, N.J. He is a graduate of the Mercer County Fire Academy. Jaime lives with his girlfriend Celia in East Windsor. During his free time, you can find Jaime attempting to exercise or rooting hard for his beloved New York sports teams.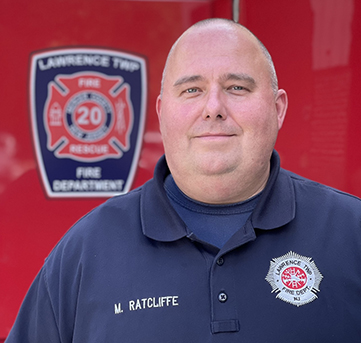 Michael Ratcliffe
Firefighter Ratcliffe was appointed to the career staff on April 1, 2013 and is assigned Badge #16. He originally joined Lawrence Road Fire Company as a volunteer in April 1992 during his freshman year at Rider University, and has remained a resident of Lawrence Township ever since.  Mike's father spent 40 years as a volunteer firefighter in their hometown of Metuchen, N.J., so Mike has known about the fire service his entire life.  During his 21 years volunteering at Lawrence Road, Mike served as fire company lieutenant, captain, administrative president, and company historian. Through Rider University's "study abroad" program, Mike lived and studied in England for four months. While not attending classes or sightseeing during that time, Mike rode along on emergency calls with the London Fire Brigade. He holds a Bachelor's degree in communications. Prior to being hired as a career firefighter for Lawrence Township, Mike worked as a journalist for almost 20 years, starting as a crime beat reporter for The Trenton Times and concluding as editor of the Lawrenceville Patch online news site. He is also the author of a book published in 2021 about the history of the Trenton Fire Department. Mike is 48 and has been married to his wife, Ann, since 2002. They have one son, James.