Recreation Department

Lawrence Township Recreation Department provides recreational programs that enrich the quality of life for Lawrence residents by promoting an active lifestyle and encouraging social interaction. The Lawrence Township Recreation Department offers a year-round selection of athletics, camps, special events, and instructional programs for the residents of Lawrence Township.
Nancy Bergen, Superintendent of Recreation
ANNOUNCEMENTS:
Please visit our program catalog for the latest available programs.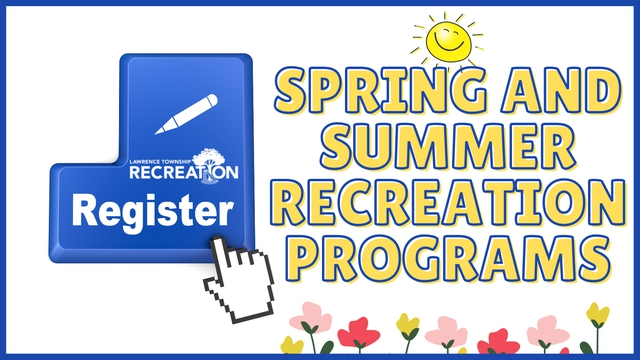 The Lawrence Township Patriotic Committee selects Lawrence Township Police Sergeant Shaun Sexton to Serve as Grand Marshal for the 2022 Lawrence Township Memorial Day Parade.
If you would like to participant in the Lawrence Township Memorial Day Parade please click here for the registration form.
Click here to sign up to participate in the 2022 Memorial Day Parade Contest.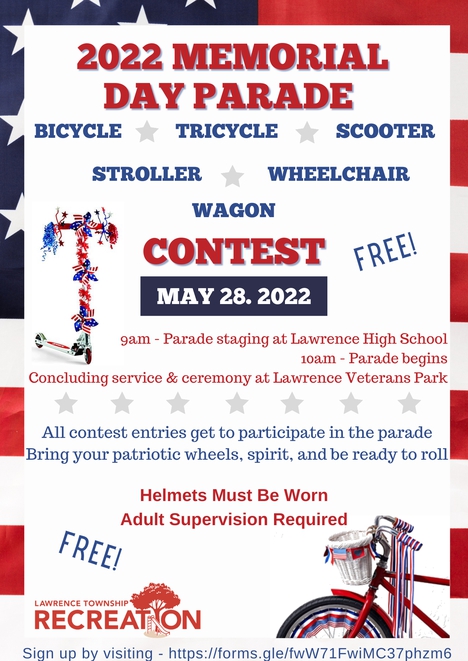 NEW FUN CLASSES AND CAMPS!
Summer Fun Camp
Adult Hula Hoop Exercise Classes
CSI Sumer Camp Grade 5th-12th
Summer Art Camp
Cornhole League
and much more online!
---
Lawrence High School Pool Hours
Monday - 6:00pm to 9:00pm
Tuesday - 7:00pm to 9:00pm
Wednesday - 6:00pm to 9:00pm
Thursday - 7:00pm to 9:00pm
Friday - 6:00pm to 9:00pm
Saturday - 12:00pm to 6:00pm
Sunday - CLOSED
Community Gardens opening day is May 6th at 5pm
---
Do you have an idea for a program and would like to run a program? 
We are always looking for new programs to offer to the community. If you have any interest or special talents and you would like to offer a program through us please email Nancy Bergen .
---
Community Events and Activities Page
Click here for information about upcoming Lawrence Township Recreation Community Events and Activities
Follow and Like us on Facebook:
Lawrence Township Recreation Facebook

COVID-19 Update:
For activities to do from the comfort of your home during this time view our guide to recreational activities.
Closings / Cancellations / Changes: