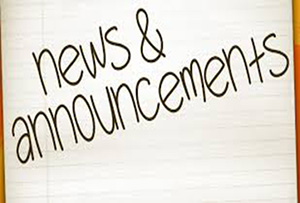 Lawrence Township Volunteer
The Lawrence Township Volunteer Award is presented to individuals and groups who performed outstanding volunteer service in our community.  Award recipients will be honored at a Council meeting by resolution of the governing body and on the township social media sites in April 2022 during National Volunteer Month. Use the attached for a description and process for submitting a nomination. The form to submit a nomination can be found with this link.
Public Tax Sale
The Township of Lawrence will hold a sale of lots or plots of land situated in the Township of Lawrence for unpaid municipal liens on Monday December 13th at 10 am. Use this link to see the public notice. The Tax sale rules are attached. Registration is REQUIRED using the attached form.
FEMA Assistance for Tropical Storm IDA damage
For information regarding FEMA assistance for damage during Tropical Storm Ida click here.to be directed to the FEMA website. Additional resources are attached for general information, individual assistance and individual/business assistance.
Kevin Nerwinski, Municipal Manager, will use his blog to communicate information on township-related issues.You can follow the blog by clicking this link .
Housing Department Notice:
Due to the overwhelming demand for housing resale and rental inspections we are experiencing at this time we are urging homeowners and agents to apply for your inspections as soon as possible after listing the property. Currently the wait time for an inspection is approximately 3-4 weeks. Until further notice, inspections will no longer be scheduled with an exact time but given a time range.
Please be advised that Princess Road has been closed to thru traffic.
The closure of Princess Road is intended to mitigate potential truck and commercial vehicle traffic through the residential portion of the roadway including, but not limited to, The Gatherings Senior Community. Signage and temporary barricades have been installed to alert motorists. The road closure will be evaluated and, if at some point in the future, it is determined to be a permanent closure, additional measures will be installed.