Small businesses and shopping local form the foundation of any thriving community and economy. Lawrence Township is committed to preserving and highlighting the variety of businesses and economic districts within its borders. From Mainstreet, to South Lawrence, along the Pike and Route 1, our businesses bring life and opportunity to the community.
The Community Aide as well as the Growth and Redevelopment Committee have designed a new campaign to give back to the local businesses and encourage the community to shop close to home. Shop Lawrence is a broad, on-going media campaign aimed at drawing attention to the amazing products and services of our local businesses! Through the Shop Lawrence video series and First Fridays promotions, Lawrence Township tells the story of its local businesses and gives them an opportunity to strengthen their connection with the community.
For our local businesses, if you would like to participate in the Shop Lawrence campaign, please reach out and we will do our best to accommodate you.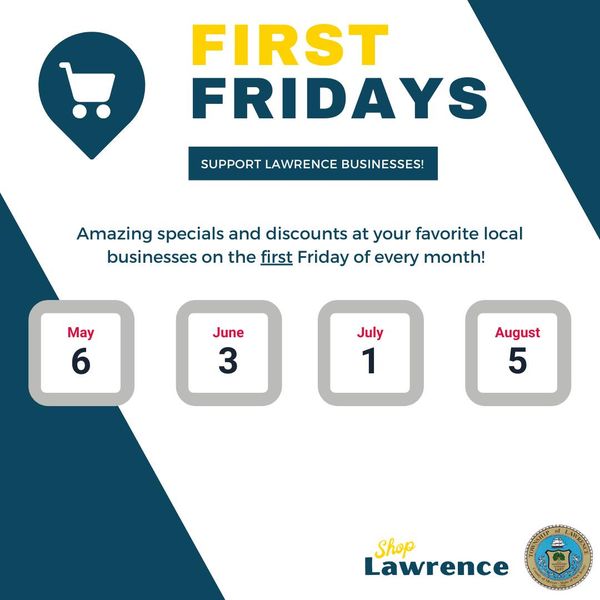 Lawrence Township has launched a promotional event called "First Fridays" in order to draw attention to the amazing products and services of our local businesses! How it works: on the first Friday of every month, participating businesses will offer a unique special or discount to encourage residents to shop close to home. The specific promotion will be promoted on the Lawrence Township Facebook page, and Facebook community groups. Every business in Lawrence Township is welcome to participate!

The Shop Lawrence video series aims to showcase the amazing products and services of participating businesses. Each 1-3 minute Youtube video allows shop owners an opportunity to reintroduce themselves and their business's story to the community. In order to have a video done for your business, you can request one by reaching out to the Community Aide. Only one video will be done per month, and therefore there may be a waitlist.
**Disclaimer** The Shop Lawrence campaign is not an endorsement of any particular business. All businesses located in Lawrence are welcome to participate in both the video series and first Fridays. All opinions expressed in the video series belong to the speaker and do not reflect any opinions of the Township of Lawrence. Additionally, the quality or fulfillment of a promotion on First Fridays is the responsibility of the business's and not Lawrence Township's.