Health Department
| | |
| --- | --- |
|             | The Lawrence Township Health Department provides public health services to the residents of this community. Under the mandates of the Public Health Practice Standards of Performance for Local Boards of Health and the ordinances and policies of the Board of Health, the Health Department promotes and protects the public's health by the use of disease prevention activities, health promotion and education, inspections and enforcement activities. The Health Department responds quickly and effectively to the ever-changing priorities of the public health field in order to meet the needs of the community. |
---
Keith Levine, Township Health Officer
Telephone: (609) 844-7089
Health Department Calendar
Cooling Centers
During the forecast for extensive heat, Lawrence Township will be providing two cooling centers. For more details including locations and hours of operation see the attached. The Health Department has prepared some tips on extreme heat safety,Heat Related Illness and how to prevent it,.
Monthly Health Department Resources
Each month the Health Department will prepare information and resources regarding health related topics. Up coming topics are listed below:
Sexual Violence
Sexually Transmitted Diseases
PROGRAMS
NJ Low-Income Household Water Assistance Program (Ongoing)
Upcoming Capital Health Programing (Ongoing)
Virtual Support Groups (Ongoing)
 
Truck-Mounted Mosquito Larviciding
The Mercer County Mosquito Control will conduct Truck-Mounted larviciding  throughout the County, which includes the use of target-specific, biorational granules applied to standing water to help prevent larval mosquitoes from developing into biting adult mosquitoes. View this link for upcoming sprayings.
COVID Testing Resources
Use this link to access the CDC No-Cost Covid-19 test tool
COVID Information
Home Safety Tips
Carbon Monoxide Poisoning resources in English and Spanish.
Lead Poisoning in Stainless Steel Bottles - Recall
Legionella
The Township has issued a press release regarding the two cases of Legionnaires' disease in Hamilton NJ. Trenton Water Works has prepared an information sheet on Legionella/Legionnaire's disease as well as recommendations to reduce the risk of Legionella exposure. Additional information is available using this link.
Monkeypox
Scientists at the Centers for Disease Control and Prevention (CDC) are tracking multiple cases of monkeypox that have been reported in several countries that don't normally report monkeypox, including the United States. Risk to the general public is low, but you should seek medical care immediately if you develop new, unexplained skin rash (lesions on any part of the body), with or without fever and chills, and avoid contact with others. For additional facts about Monkeypox use this link. What to know about Monkey Pox and how to stay safe. The NJ Department of Health as published details about the Monkeypox vaccination.
Lawrence Township Health Department was recognized in the 2022-2023 New Jersey Influenza Honor Roll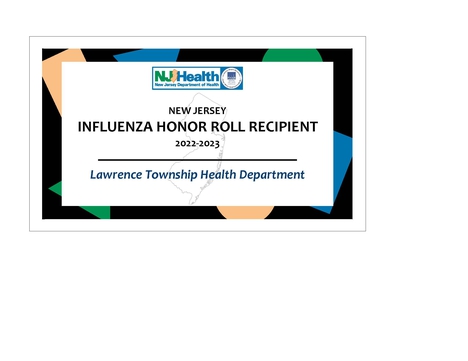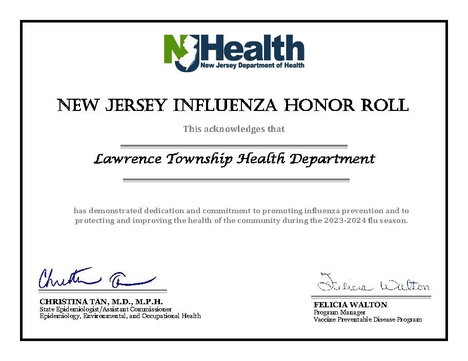 Child Health Conferences
Child Health Conferences are conducted each month. Infants, preschool and school age children, who do not have insurance, may attend the clinic. The clinic is staffed with a licensed pediatrician and qualified public health nurses. The services include a physical examination, growth measurements, lead screening, required immunizations, tuberculosis testing, hearing, vision and developmental assessments. This clinic is by appointment only, appointments can be made by calling the nurse's office at (609) 844-7094.
Free STI Testing and Treatment Clinics
Free and confidential STI & HIV testing is available for Lawrence residents at the Hamilton Township Division of Health at 2100 Greenwood Ave, Hamilton, NJ 08609.  *Free HIV testing now available*  Visit the following links for more information in English and Spanish.
Additional Resources
In need of social services? Visit the Mercer County Library Social Work Intern
Mercer County Free Food Finder
Mercer County Division of Public Health