Health Department
| | |
| --- | --- |
|             | The Lawrence Township Health Department provides public health services to the residents of this community. Under the mandates of the Public Health Practice Standards of Performance for Local Boards of Health and the ordinances and policies of the Board of Health, the Health Department promotes and protects the public's health by the use of disease prevention activities, health promotion and education, inspections and enforcement activities. The Health Department responds quickly and effectively to the ever-changing priorities of the public health field in order to meet the needs of the community. |
---
Keith Levine, Township Health Officer
Telephone: (609) 844-7089
COVID Vaccination Clinics  
Everyone 6 months and older is now eligible to get a COVID-19 vaccine.
COVID Testing Resources
MediMobile will provide COVID testing on Thursdays from 8:30am - 6pm at Slackwood Firehouse.
Residential households in the U.S. can order free at-home tests from USPS.com. Here's what you need to know about your order:
Limit of 3 orders per residential address.
An order includes 8 individual rapid antigen COVID-19 tests.
Visit: https://special.usps.com/testkits to order.
New Jersey and Vault Medical Services have teamed up to offer free at-home COVID-19 PCR saliva testing for New Jersey residents.
COVID Information
Don't Delay: Test Soon and Treat Early!
Are you or someone you know suffering from long COVID? See attached for resources.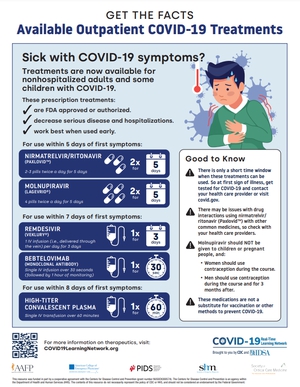 Lead Resources
NEW July 22, 2022: State Law Requires Lead Paint Inspections for Rentals. For more information, visit this guide and FAQ page. Visit the New Jersey DCA website for additional information on lead abatement. Please call the Health Department at 609-844-7089 with any questions or concerns.
The Environmental Protection Agency provides basic information about what you need to know about lead poisoning in the attached, and this detailed booklet. New Jersey's Lead-Safe Home Remediation Grant Program details can be found in English and Spanish. Information on home assessments can be found here.
For residents who are serviced by Trenton Water Works, please see the attached notice for tips in reducing lead in your drinking water.
Flu Vaccine Clinics
The Lawrence Township Health Department is hosting two drive through influenza vaccination clinics. Click the flyer below for more information and to sign up for an appointment.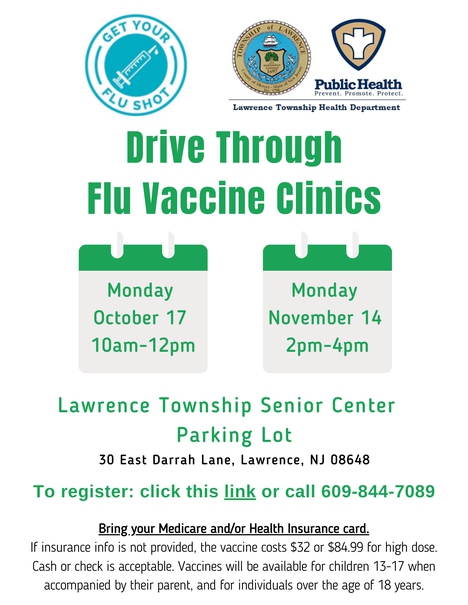 Monkeypox
Scientists at the Centers for Disease Control and Prevention (CDC) are tracking multiple cases of monkeypox that have been reported in several countries that don't normally report monkeypox, including the United States. Risk to the general public is low, but you should seek medical care immediately if you develop new, unexplained skin rash (lesions on any part of the body), with or without fever and chills, and avoid contact with others. 
Lawrence Township Health Department was recognized in the 2021-2022 New Jersey Influenza Honor Roll
  Learn more about the Influenza Honor Roll here. 
Tick-borne Disease Awareness 
Tick-borne diseases are bacterial illnesses that spread to humans through bites from infected ticks. Early signs of tick-borne diseases generally include skin rash, general tiredness, fever and/or chills, headache, stiff neck, muscle aches, joint pain, and dizziness. Visit this link for more information from the New Jersey Department of Health. This document provides some suggestions on how to remain tick-free. See this resource guide for information on tick testing.
Mosquito Management
Reducing breeding habitats is a key strategy to eliminate mosquitos. Female mosquitoes lay eggs on the walls of water-filled containers. To keep those eggs from hatching and becoming adult mosquitoes, residents should do the following:
Empty out water from containers in your yard such as buckets, recycle bins and potted-plant saucers.
Store tires indoors or away from rain. Check for tire recycling programs in your area.
Empty and replace water in bird baths at least once a week. Remember: water plus seven days equals mosquitoes.
Make sure drain pipes slope downward. These drain pipes are dominated by Asian tiger mosquito immatures, and this species is an aggressive day biter.
Maintain your pool. Remove water from tarps and pool covers.
Other steps residents can take include keeping mosquitoes out of the home by installing or repairing window screens and using air conditioning when available; and preventing mosquito bites by using an Environmental Protection Agency-registered insect repellent with an active ingredient such as DEET, Picaridin, IR3535, Oil of lemon eucalyptus (OLE) or para-menthane-diol (PMD).  To learn more about Mercer County's Mosquito Control Program, click here.
Child Health Conferences
Child Health Conferences are conducted each month. Infants, preschool and school age children, who do not have insurance, may attend the clinic. The clinic is staffed with a licensed pediatrician and qualified public health nurses. The services include a physical examination, growth measurements, lead screening, required immunizations, tuberculosis testing, hearing, vision and developmental assessments. This clinic is by appointment only, appointments can be made by calling the nurse's office at (609) 844-7094.
If you or your child has attended the Child Health Conference at the Health Department previously and you are in need of a medical or immunization record, please complete and submit the Release of Medical/Immunization Record to the Public Health Nurse.
Free STI Testing and Treatment Clinics
Free and confidential STI & HIV testing is available for Lawrence residents at the Hamilton Township Division of Health at 2100 Greenwood Ave, Hamilton, NJ 08609.  *Free HIV testing now available*  Visit the following links for more information in English and Spanish.
Battery Recycling
See this presentation for more information on safe battery disposal. 
Annual Report
Each year the Health Department compiles data for the services and activities provided to the residents of Lawrence Township. This information is included in the Local Health Report. This report was reviewed by both the Lawrence Township Council and the Lawrence Township Health Advisory Board. The Lawrence Health Department Annual Report is a summary of the activities and services provided by the Health Department in 2019.
Mercer County Community Health Assessment
The Greater Mercer Public Health Partnership (GMPHP) is a collaboration of hospitals, health departments, the Mercer County Department of Health and Human Services, and other not-for-profit organizations whose mission is to measurably improve the health of residents of the Greater Mercer County community. As part of an effort to inform continuous collaborations to improve the health of the community, the GMPHP has undertaken a community health assessment to examine health-related needs and strengths of the community. Attached, please find the Mercer County Community Health Assessment for 2021. The GMPHP has created an informative MP4 of this report which can be viewed here.
Additional Resources
Mercer County Division of Public Health