Police
Meet The Chief Of Police
Brian Caloiaro, Chief of Police

Chief of Police Brian M. Caloiaro was born and raised in Lawrence Township.  He attended Lawrence Township Public Schools and graduated from Lawrence High School in 1990.  Chief Caloiaro then attended Wilkes University in Wilkes Barre, Pennsylvania where he attained his Bachelor of Art Degree in Sociology/Criminal Justice.  Upon graduation, he was hired by the Lawrence Township Police Department on July 18, 1994. 

Upon graduation from the police academy, Brian was assigned to the Patrol Division.  While in the patrol division, he was instrumental in beginning the Community Response Unit which responded to quality of life issues throughout the Township and bridged the gap between the police department and the community.  In January of 2000, he was tasked with developing the police departments first School Resource Officer (SRO) Program.  He was assigned to both Lawrence High School and Lawrence Middle School.  As the SRO, he acted in a 3-pronged capacity.  He was a law enforcement officer, informal counselor and spent time in the classroom teaching law enforcement related classes.  Brian held this role until his promotion to Sergeant in February of 2001 where he again was assigned to the Patrol Division.  His police career then steadily progressed, attaining the rank of Lieutenant in 2014, Captain in January of 2018 and Chief of Police in July of 2018.   Brian has held many positions in the police department to include Accreditation Manager, Internal Affairs/Officer Accountability Commander, Records Bureau Commander, Department Training Officer and Community Relations Coordinator. 

Chief Caloiaro is a graduate of Seton Hall University with both a Ma.E in Administration and Supervision and an Ed.S in Human Resources Training and Development.  In 2019, Brian attended and graduated from the prestigious FBI National Academy in Quantico Virginia. 

Outside of work, Brian enjoys spending time with his wife and 3 sons.  He has coached youth athletics for many years and enjoys watching his sons compete on the athletic field. 

Chief Caloiaro wholeheartedly believes in the Community Oriented Policing philosophy.  He also believes that the police departments mission is to partner with community members to improve the quality of life for all residents and business alike. 
About Us
The police department is comprised of sworn officers and civilian employees dedicated to achieving the mission and vision of the department while displaying the core values of the department. It is comprised of a command staff and two divisions with bureaus serving the specialized needs of the community.
Mission Statement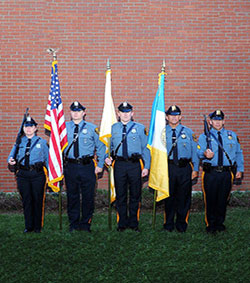 The mission of the Lawrence Township Police Department is to improve the community by practicing problem-solving strategies against crime and quality of life issues. We are committed to conducting pro-active policing strategies to reduce crime and the fear of crime in our town. We believe in and are committed to, developing partnerships within the community to improve the quality of life within Lawrence Township.
Core Values: Honor-Integrity-Knowledge
Honor: We will honor our police powers. We understand that our police powers are derived from the community in which we serve.
Integrity: We are committed to the highest standards of honesty and ethical conduct, which are the cornerstones of our profession. We are dedicated to upholding the highest moral and ethical standards.
Knowledge: We will continually strive to maintain a high level of professional development through continuous learning and specialized and in-service training.
Documents for Public Review
New Jersey Attorney General's Law Enforcement Drug Testing Policy -The illegal use of drugs is incompatible with service in law enforcement. This agency is committed to ensuring that sworn law enforcement personnel are physically and mentally capable of performing their duties and fulfilling their responsibilities. Officers are required to obey all laws and ordinances, including those concerning the illegal use of drugs. Violations of these laws are intolerable. The purpose of this policy is to safeguard this agency from sworn law enforcement personnel who may engage in the illegal use of drugs. This Police Department will maintain a zero tolerance stance of illegal drug use by sworn law enforcement personnel. General Order Number 2.05 - Drug Screening.
Officer Accountability Bureau
The goal of the Lawrence Township Police Department is to provide the most professional police services possible to the citizens of Lawrence Township and the State of New Jersey. Honesty and integrity are paramount to that goal. The mission of the Officer Accountability Bureau is to fully and impartially investigate all complaints about police officer conduct. Complaints about police officer conduct are accepted 24 hours a day, 7 days a week from all persons. During normal business hours, contact the Officer Accountability Bureau at 609-896-1111. After hours you can call 609-896-1111 and ask to speak with the Shift Commander. The attached is the 2020 Internal Affairs Synopsis with findings from conduct investigation. Please click here to see the Annual Major Discipline Reporting Form dated June 15 through December 31, 2021.  Printable complaint form can be downloaded from here.
For more details on complaint policy and procedure click here.
Officer Commendation
Citizens are able to commend a Department employee as a way of saying thanks for exemplary service or to let the employee know you appreciate their efforts in handling a problem. You may telephone the Chief's Office at 609-896-1111, send an e-mail or complete the commendation form which can be downloaded here. The message or form will be forwarded to the employee and included in their personnel file. Please include the employee's name, date, time and the location of the incident as well as the circumstances surrounding the event. Printable commendation form can be downloaded from here.
Police Department Launches Body Worn Camera Program
The Lawrence Township Police Department has implemented body worn cameras for their officers.  All uniform officers will be wearing the body worn camera pictured below.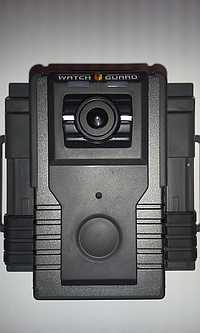 Law Enforcement Resources
Mercer County Prosecutor
New Jersey Attorney General
New Jersey Commission of Investigation
New Jersey State Police Investigations Branch